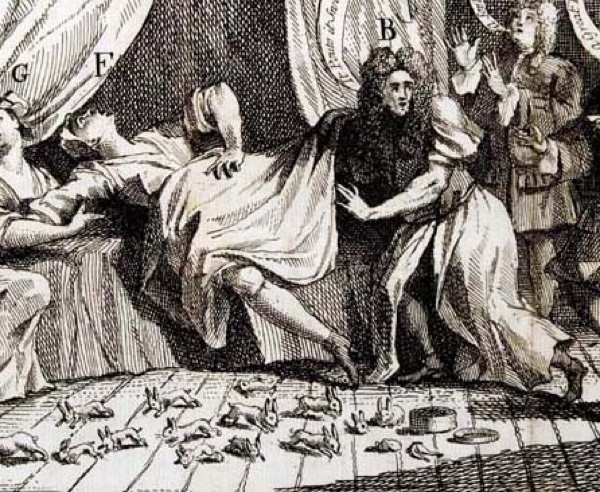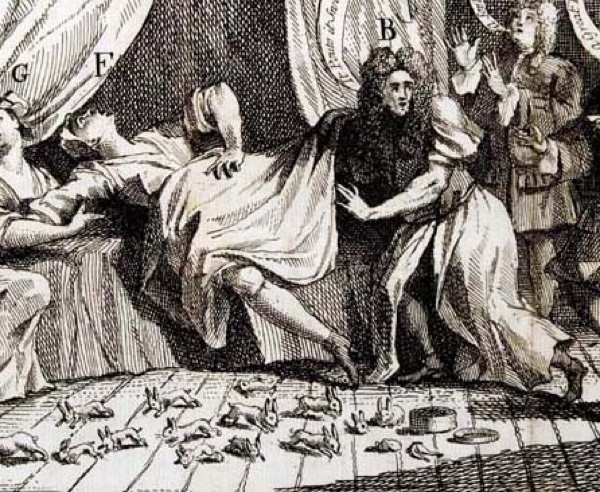 If you're going to choose an animal to give birth to, you might as well choose something small and inconspicuous, right? Put it this way, you're not going to choose a shark. Mary Toft of Godalming, England, opted for the humble rabbit—but not just one of the furry little thumpers. When surgeon John Howard was summoned to the Toft household in 1726, he witnessed the birth of nine rabbits, all dead and not all whole.
An investigation by the surgeon-anatomist to the King himself—Nathanael St. Andre—followed. Nationwide press coverage, a trip to London and numerous tests later the men of science were still confounded. It was only when a butcher of Godalming admitted to supplying the Toft household with rabbits and one of the surgeons announced plans for a thorough, and internal, examination of her uterus that Mary came clean.
Mary had slyly inserted the dead rabbits into her womb when no one was looking. But why the deception? Mary was desperate for fame and fortune and an audience with the King. But what she really got was a small fine for fraud and the guilt of ruining the two surgeons' careers – both St Andre and Howard never worked in England again.