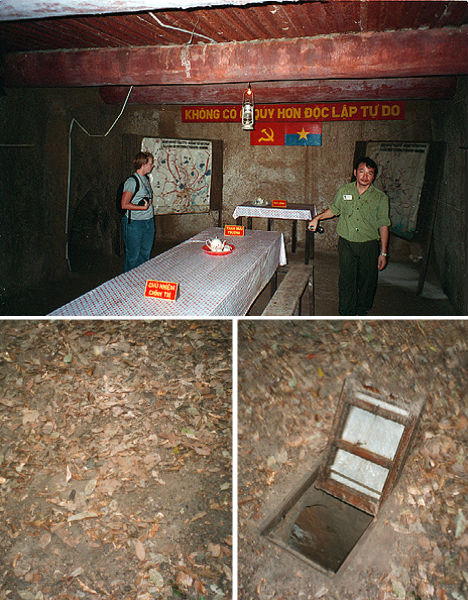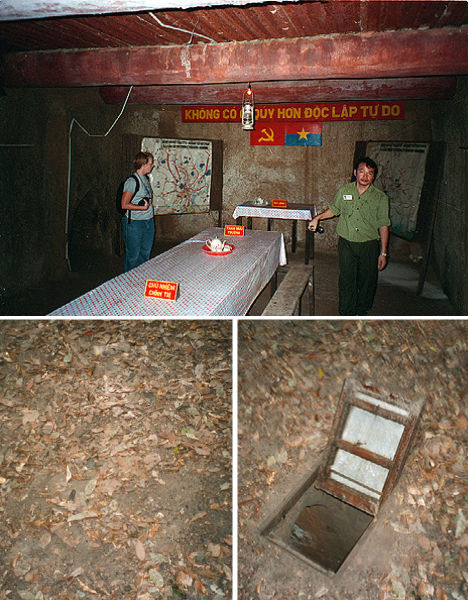 The tunnels of Củ Chi are an immense network of connecting underground tunnels located in the Củ Chi district of Ho Chi Minh City(Saigon), Vietnam, and are part of a much larger network of tunnels that underlie much of the country. The Củ Chi tunnels were the location of several military campaigns during the Vietnam War, and were the Viet Cong's base of operations for the Tết Offensive in 1968.
The tunnels were used by Viet Cong soldiers as hiding spots during combat, as well as serving as communication and supply routes, hospitals, food and weapon caches and living quarters for numerous North Vietnamese fighters. The tunnel systems were of great importance to the Viet Cong in their resistance to American forces, and helped to counter the growing American military effort.
Imagine being stuck inside dirt-walled tunnels where there's no escape from poisonous spiders or from the mosquitoes that are giving everyone around you malaria. Life was no picnic for the Viet Cong soldiers who hid in the Cu Chi tunnels during the Vietnam War, but one thing's for certain: the tunnels were well disguised, the entrances virtually invisible in the dirt and leaves above. In fact, this hidden tunnel system – packed with food, weapons and medical supplies – played a crucial role in the Viet C ong's successful resistance. Though many were discovered by American troops, they were incredibly dangerous, often rigged with booby traps and bamboo spike pits. The tunnels are now a popular tourist destination and some have been ironically enlarged to accommodate oversized Western visitors.