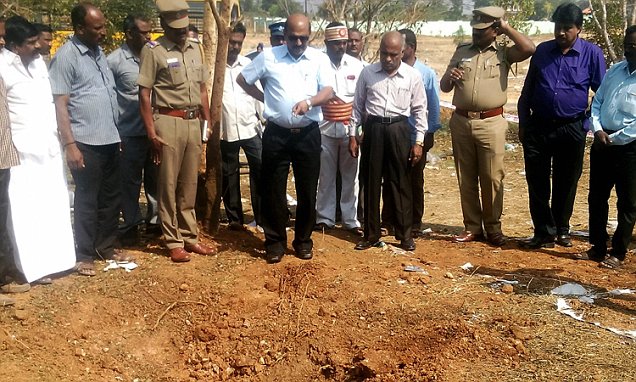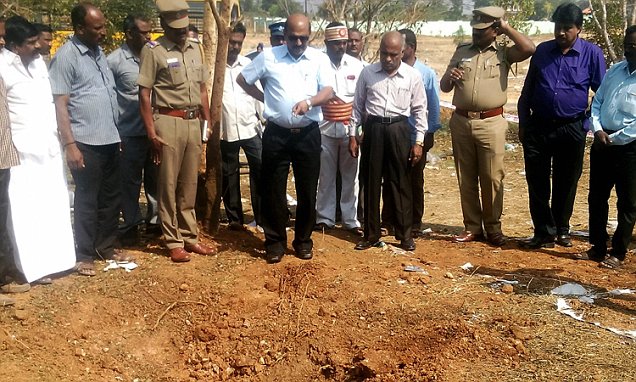 Indian authorities inspect the site of a suspected meteorite landing on February 7, 2016 in an impact that killed a bus driver and injured three others on February 6. If proven, it would be the first such death in recorded history. The impact of the object left a large crater in the ground and shattered window panes in a nearby building, killing the driver who was walking past.
Witnesses say he died after being hit by splinters from 'exploding space rock'
An Indian bus driver has become the first man in recorded history to be killed after he was struck by a meteorite, sensational local reports have claimed.
The space rock crashed near an engineering college in Vellore, in Tamil Nadu state, where the 40-year-old man was standing, said local minister Jayalalithaa Jayaram.
In a statement, she added: 'A mishap occurred yesterday when a meteorite fell in the campus of a private engineering college.'
Witnesses told the New Indian Express how the driver was rushed to the hospital after being hit by 'splinters' of the so called meteorite, but died on the way.
The impact, which injured three, shattered the windows of nearby buses and buildings, NDTV reported.
After hearing the 'deafening' bang outside, students rushed from their classrooms to discover a small crater in the field outside.
Witnesses have told of seeing a glowing, mysterious object falling from the sky – and an explosion when it hit the ground.
But local police have dismissed these reports as rumours, saying the blast was used by 'gelatine sticks' which were abandoned in the ground when the college was being built, New Indian Express reported.