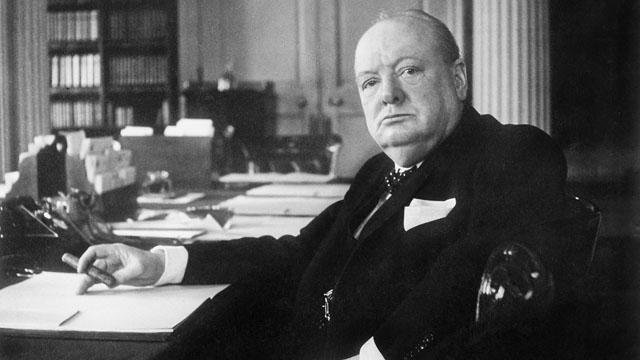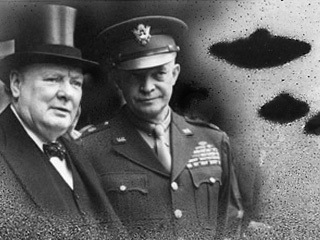 Years after his death, Winston Churchill continues to make news. If it's not his triumphant dentures, it's his possible cover-up of a UFO sighting. Britain's Ministry of Defense has just released its latest batch of UFO-related files to the National Archives, and among the more than 5,000 pages are letters, written in 1999, from the grandson of a Royal Air Force (RAF) member who'd served as one of the former Prime Minister's bodyguards.
According to the letter writer, a scientist who'd heard the story from his mother, the bodyguard claimed that during World War II, Churchill, intending to avert "mass panic," ordered the 50-year classification of an encounter between an RAF aircraft and a mysterious flying object. Churchill had reportedly discussed the matter with U.S. General Dwight D. Eisenhower. Although the Ministry of Defense has no documentation of the episode, its UFO files before 1967 no longer exist. Churchill definitely did, however, request a report on flying saucers in 1952.
Secret Files
The government took the threat of UFOs so seriously in the 1950s that UK intelligence chiefs met to discuss the issue, newly-released files show.
Ministers even went on to commission weekly reports on UFO sightings from a committee of intelligence experts.
The papers also include a wartime account claiming prime minister Winston Churchill ordered a UFO sighting be kept secret to prevent "mass panic".
The Joint Intelligence Committee is better known for providing briefings to the government on matters relating to security, defence and foreign affairs.
But the latest batch of UFO files released from the Ministry of Defence to the National Archives shows that, in 1957, the committee received reports detailing an average of one UFO sighting a week.
The files also include an account of a wartime meeting attended by Winston Churchill in which, it is claimed, the prime minister was so concerned about a reported encounter between a UFO and RAF bombers, that he ordered it be kept secret for at least 50 years to prevent "mass panic".