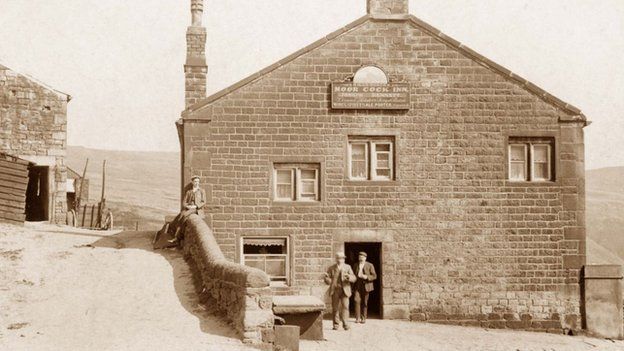 Let's introduce with a horror murder case of landlord and his son . In this article the strange case of the 'Bill o' Jacks Murders' is briefly described.
Blood was smeared on the floor, walls and stairs of a remote Lancashire pub where a landlord and his son were murdered in 1882.
Thomas Bradbury's battered body was found downstairs in the Moor Cock Inn, near the village of Greenfield, Saddleworth.
The 46-year-old's father William, or Bill, was upstairs in bed.
The 84-year-old, who was known as Bill o'Jacks in line with the local custom of referring to people as the offspring of their father, had also been badly beaten but managed to mumble a barely audible word before he lost consciousness.
Detectives looked into the possibility he said "Platts", a common local name.
The words "Patts" and "Platters", referring to Irish natives and gypsies respectively, were also considered.
One suspect was a poacher who Thomas was due to testify against at court.
But Paula Badger, a historian who has studied the case, believes the murders were over a gambling debt.
She thinks William was the target and Thomas was injured in the process.
"I think the younger one discovered the intruder," she said.
She said the inn was affluent in its day – especially because it used to collect toll money for the nearby Holmfirth Road.
"If you have an affluent inn, there will be disputes," she said.
"Don't forget, in those days pubs were won and lost on a game of cards."