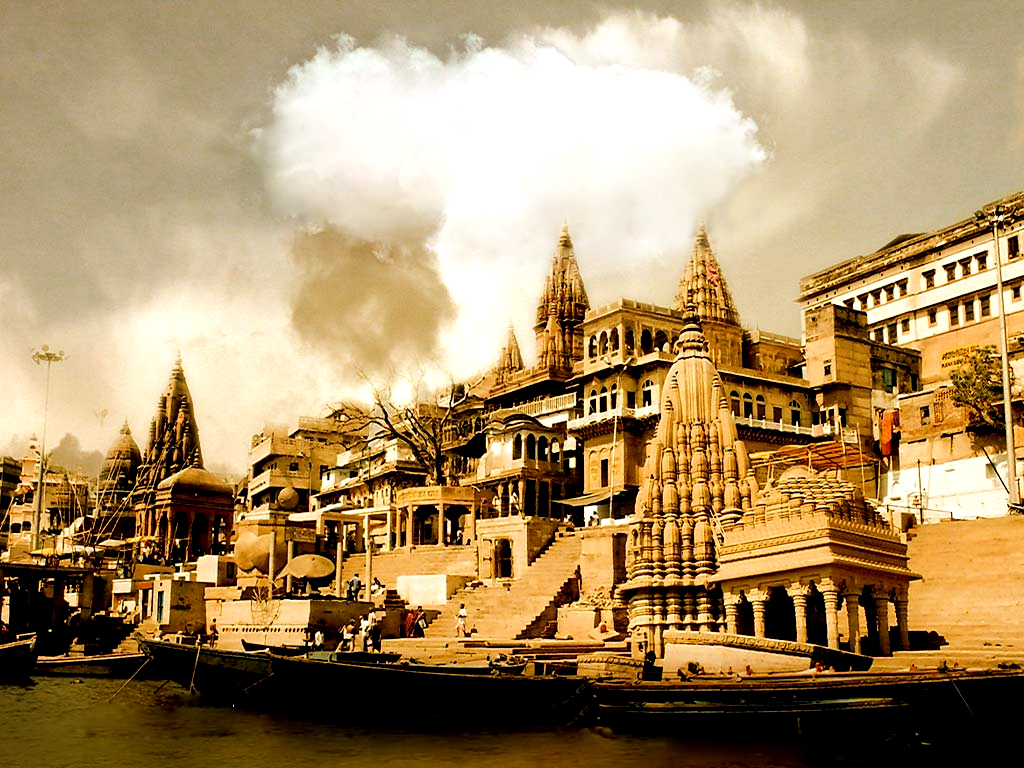 10. Brahma Temple (Only Brahma Temple in the World), Pushkar, Rajasthan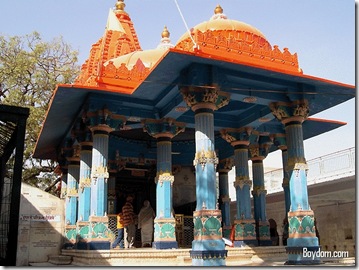 Pushkar is one of the five sacred dhams for Hindus. Only a few Hindu temples remain in Pushkar since most of them were destroyed by Aurangzeb. The most important of the ones remaining is Brahma Temple. It is said to be the only temple in the world dedicated to Brahma. It stands on a high plinth with the Marble steps leading up to the deity. A silver turtle is set on the floor facing the Sanctum-Sanctorum or Girbha-griha. Around the turtle the Marble floor and walls are embedded with hundreds of silver coins engraved with the names of the donors.
---
9. Shiva Temple (Submerged Temple), Varanasi, Uttar Pradesh
In Varanasi near the Scindia Ghat one can get a glimpse of a temple that people can associate with Leaning Tower of Pisa. Along the banks of Ganga, bordering the Manikarnika to the north in Scindia Ghat, there is a titled Shiva temple. It lies partially submerged in the river. It is said the temple fell as a result of sheer weight of the ghat's construction in 1830. It remains currently abandoned and not in use.
---
8. Chinese Kali Temple, (Noodles are Prasad), Tangra, Kolkata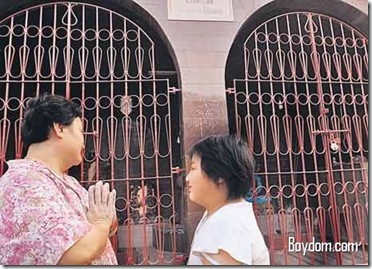 In the Tangra's Chinatown in Kolkata there is a Chinese Kali Temple. On Kali Puja, most of the ethnic Chinese residents of Tangra take the day off and get together in front of the temple. Local Chinese residents usually pause, take off their shoes, and pray for a moment in front of the idol. Pandit who is a Bengali Brahmin comes here every day for the morning and evening aarti. The site is about 60 years old people say. In the beginning it was just a couple of sindoor-smeared black stones under an old tree. Local people worshipped these stones and Chinese followed the suit. Most of the Chinese here are Buddhists or Christians, but are great fans of the Kali temple. Deity here is offered noodles, chopsuey, rice-and-vegetables dishes.
---
7. Stambheshwar Mahadev (The Disappearing Temple), Kavi Kamboi, Gujarat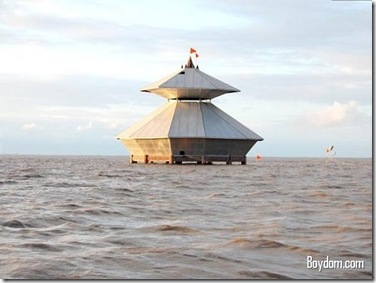 Stambheshwar Mahadev Temple is situated about 40 miles from Vadodara in the small town of Kavi Kamboi of Gujarat. It is located within the Bay of Khambhat in the Arabian Sea. This temple of Lord Shiva can only be visited during the low tide hours. In the hours of high tides it remains mostly submerged. People flock this temple in large numbers to witness the event of submerging or reemerging of the temple from the sea.
---
6. Tatwani Temple (Hot Spring Pool), Tatwani, Himachal Pradesh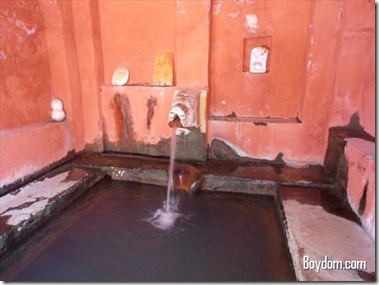 Tatwani about 25 km from Dharamshala is known for its waterfalls and hot springs. There is a particularly famous hot spring pool built within an ancient Hindu temple complex. It is mandatory for the visitors of the temple to take a dip in the hot springs. The water of the spring is just adequately warm and is believed to possess healing properties. The pool shown above is only for men. There is also a women's only pool complete with small fishes inside the temple complex.
5. Kal Bhairav Nath Temple (Ujjain), Khabees Baba Temple, (Sitapur) (Booze as Prasad), Uttar Pradesh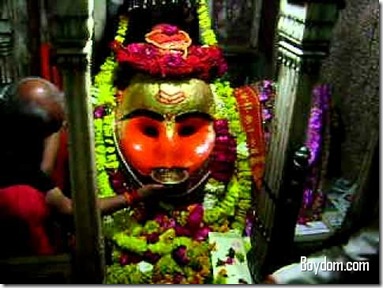 Kal Bhairav Nath Temple (Ujjain)
Kal Bhairav Nath is the guardian deity of the city of Ujjain. The temple is well known for its deity who guzzles wine by the gallons. The main offering to the deity is wine. It is also the only Prasad given to the devotees. Liquor is poured into the mouth of deity. Devotees throng to this temple bearing bottles of wine as an offering. Liquor is available 365 days a year outside the temple. The temple is said to have been built by the Marathas.
Khabees Baba Temple (Sitapur)
Devotees of Khabees Baba Temple of Uttar Pradesh's Sitapur district also only offer liquor to the deity. The temple has no idol or a priest. Sitapur district is about 80 km from Lucknow. Locals say the temple was built 150 years ago remembering Khabees Baba, who was an ardent Lord Shiva worshipper. Khabees Baba used to drink in the evening and had a knack of curing people's illnesses while drunk. Devotees from all over the state and country come here every day, but on the occasion of Guru Poornima, the numbers are usually very high. There is a raised platform over which rests two slipper-shaped structures that symbolize the feet of the saint.
---
4. Mata Jwala Ji Temple, Kangra District, Himachal Pradesh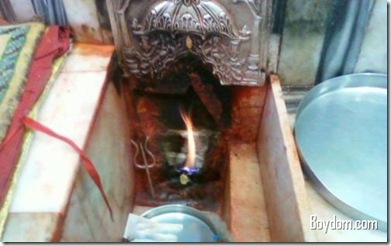 Jwala Ji shrine is located in the lower Himalayan town of Jawalamukhi in Kangra district of Himachal Pradesh. It is about 55 kilometers away from Dharamshala. In the temple there are 7 or 9 naturally occurring jyotis (flames) that constantly burn. They are considered as the 7 divine sisters of Maa Bhagwati or the 9 incarnations of Maa Durga. The nine jyotis are Maa Mahakali Jwala Ji, Maa Annapoorna Jwala Ji, Maa Chandi Mata Jwala Ji, Maa Hinglaj Bhawani Jwala Ji, Maa Vindhyavasini Jwala Ji, Maa Maha Lakshmi Jwala Ji, Maa Maha Saraswati Jwali Ji, Maa Jwala Ji, Maa Anjana Jwala Ji.
---
3. Om Banna Shrine (Bullet 350 Motorcycle Temple), Jodhpur, Rajasthan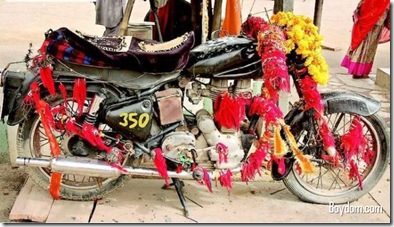 Om Banna or Bullet Baba is a shrine near Jodhpur, India. It is located in Chotila village about 50km off of Jodhpur. Devotees numbering hundreds turn up each day to pray for a safe journey and make an offering of liquor. Shri Om Singh Rathore was the son of a village leader. In 1991, he was killed when he drove into a tree with his bike. The motorcycle was seized by local police and taken to the police station, but was found the next morning at the accident spot. The bike was taken back again and this time secured with chains, but it returned to the same spot next morning again. The tree also is adorned with offerings of bangles, scarves and rope. The shrine even has its own priest.
---
2. Karni Mata Temple (Rat Temple), Deshnok, Rajasthan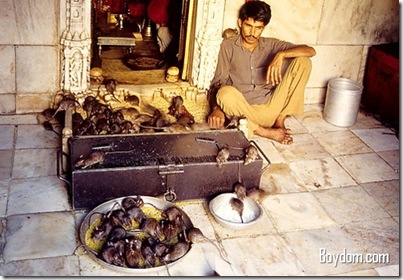 Karni Mata Temple or otherwise known as rat temple is in a small town of Deshnok, about 30 kms south of Bikaner, Rajasthan. The temple is dedicated to Goddess Karni, an incarnation of Maa Durga. She is said to have lived in Deshnok in the 14th century. As per one of the stories, when her youngest son drowned, She asked Yama (the god of death) to bring him back to life. Lord Yama denied her request. Thus She being an incarnation of Goddess Durga, brought her son back to life. She then proclaimed that none of her family members would die and they would in fact incarnate in the form of rats. The temple dates back to 15th century and was built under Maharaja Ganga Singh's rule of Bikaner. Temple houses around 20,000 rats that are fed, protected and worshipped. Rats can be seen here eating from huge metal bowls of milk, sweets and grains, the leftovers of which are offered to the visitors. A glimpse of white rats (believed to be manifestations of Karni Mata herself and her four sons) is considered auspicious and fruitful.
---
1. Hadimba Temple, (Pagoda Style Temple) Manali, Himachal Pradesh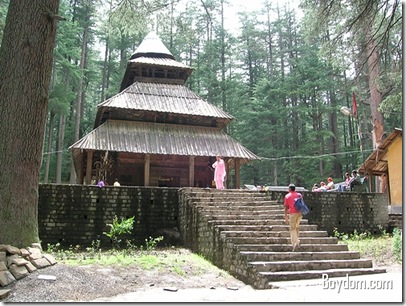 Hadimba Temple in Manali is among the most important temples of the region. It has a distinct pagoda style of architecture. It is a four-storey wooden temple located in the middle of woods (Dhungiri Van Vihar). The entry door of the temple is embellished with images of Goddess Durga. Over the temple is a 24 m tall wooden 'shikhar' or tower. Three timber tile covered sloping square roofs adorn the shikhar. There is also a fourth brass cone-shaped roof at the top. It was probably constructed in 1553 dedicated to Hadimba Devi, sister of demon Hadimb. Hadimba Devi is the patron-deity of the kings of Kullu. Hadimba married Bhima, one of Pandava brothers (after he killed her brother, Hadimb). There are no idols, but just a footprint on a stone that is worshipped. On 14th May, her birthday is celebrated with a huge fair and rice beer or 'longri' served on that occasion.