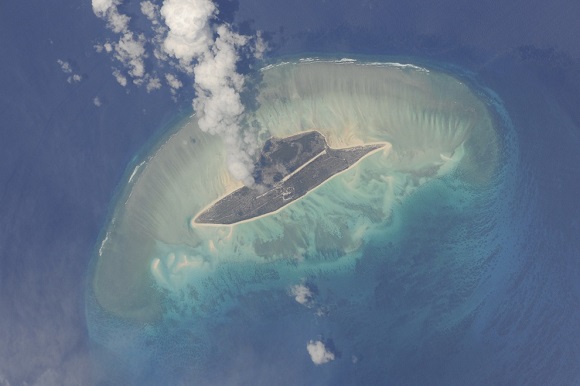 Let's introduce with the strange, mysterious , unexplained , amazing , interesting pictures from space.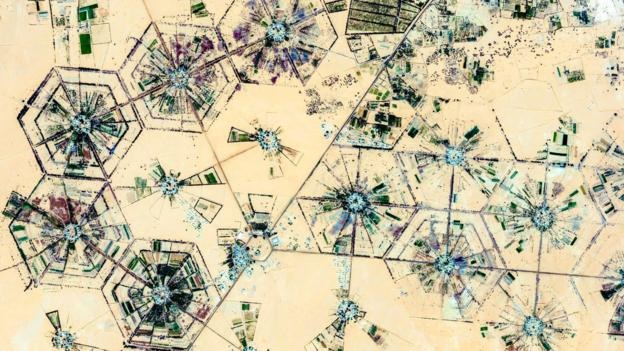 Irrigation system, Al-Jawf, Libya
Al-Jawf, a town in Libya, is almost completely dependent on irrigated water. In the image below, the hexagonal shapes etched into the surface of the Sahara Desert represent agricultural oases up to 1km in diameter.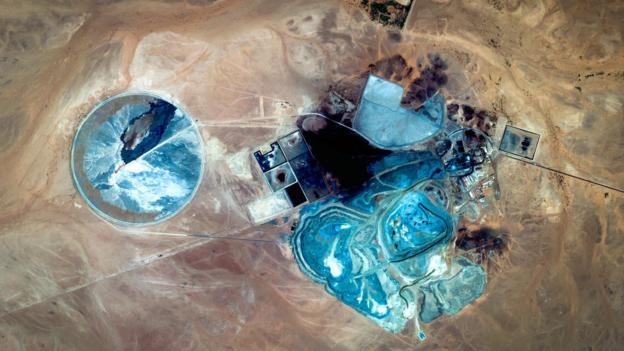 Copper and gold mine, Akjoujt, Mauritania
This image shows a copper and gold mine in Akjoujt, Mauritania. Blue colouring on the sand is caused by oxidised deposits of copper around the mine-head. When copper comes into contact with the atmosphere, the oxygen and water react with its surface to produce copper carbonate, giving it a green/blue hue.
Minerals like copper and gold are an important resource to the country. While other mineral resources are in decline, salt being a notable example, copper continues to be mined. In 2006, the mine's owners, First Quantum Minerals, produced their first haul of gold – amounting to 322kg. The mine was expected to produce about 3,300kg of gold per year.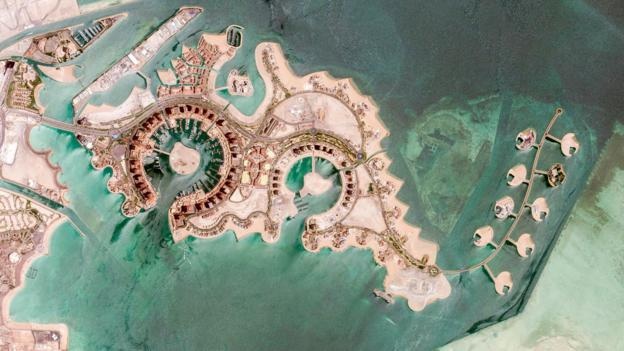 The Pearl-Qatar, Doha, Qatar
The Pearl-Qatar is an artificial island still under construction in Doha's West Bay Lagoon. At completion, the island will be filled with luxury hotels, residences, shops and restaurants to draw in wealthy expats from all over the world.
Like Dutch polders, these luxury islands are built from land reclaimed from the water by dredging it up from the shallow seabed. A similar project in Dubai, the United Arab Emirates, called The World is not faring well after construction stalled in 2008.
The small artificial islands that make up the project will erode without continued maintenance. Environmentalists have warned that eventually the project would sink completely.
Residents began moving to move into The Pearl-Qatar in 2012, but construction on the whole island isn't due to finish until 2018.