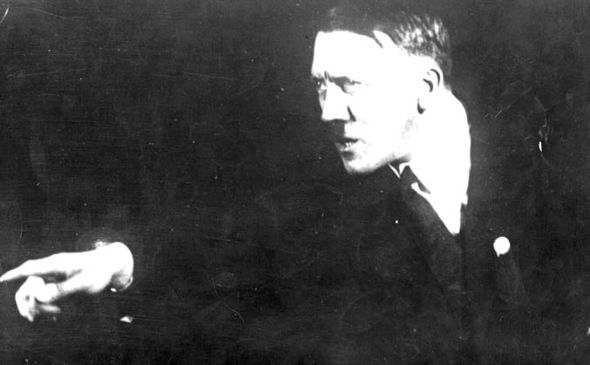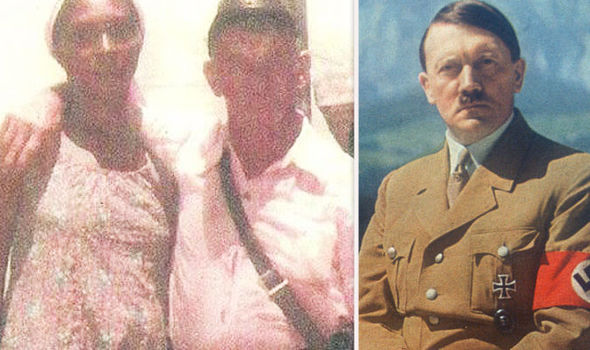 The grainy image said to show Hitler with his lover
The evil dictator fled to Paraguay, via Argentina, before settling in a small town in the state of Mato Grosso, Brazil, according to a shocking book.
Hitler is said to have used the assumed name of Adolf Leipzig and was known to the 12,000 locals in Nossa Senhora do Livramento as "the Old German".
The man at the centre of the controversial claim is pictured, two years before his death in 1984, posing happily with his black girlfriend Cutinga.
Simoni Renee Guerreiro Dias, who wrote Hitler in Brazil – His Life and His Death, claims he was in the area hunting for buried treasure using a map given to him by friends withing the Vatican.
She insists that Hitler was using his lover Cutinga to hide his true identity as a vile Aryan supremacist.
Simoni, a Brazilian jew, refuses to accept that the Fuhrer shot himself in his Berlin bunker on April 30 1945. She is demanding that Leipzig's remains be exhumed and his DNA tested tested against living relatives of Hitler.
She told local journalists: "I just laughed at first, I thought it was a joke. Today I'm convinced it is true and Adolf Hitler didn't end up here by chance."
Simoni spent two years in the small town near the Bolivian border, which was founded during an 18th century gold rush, investigating her oddball theory.
She has linked the Fuhrer's alleged arrival in the area to a Vatican offer of ownership rights over buried Jesuit treasure in a cave near his adopted home.
And she claims that he chose the surname of Leipzig because it was the birthplace of Hitler's favourite composer, Bach.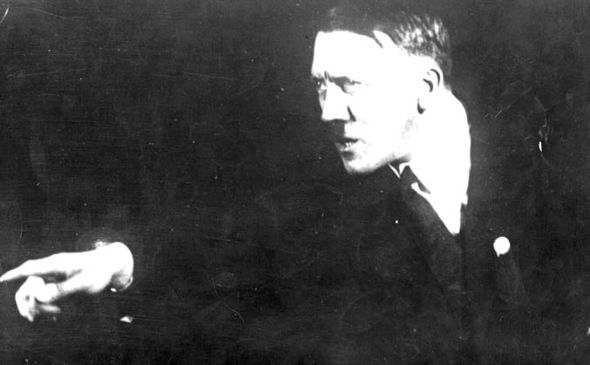 Her suspicions about Adolf Leipzig increased after she Photoshopped a moustache onto the grainy picture she obtained of him and compared it to photos of the Nazi leader.
According to Simoni, an unidentified Polish nun recognised an elderly man due to have an op at a hospital in Cuiaba in the early eighties as Hitler and demanded he leave – but was reprimanded by a superior who claimed he was there on Vatican orders.
Conspiracy theorists have long argued Hitler escaped from Germany and fled to south America, following fellow Nazis Adolf Eichmann and Josef Mengele.
This theory became the centre of a fresh row last year when two British authors were accused of plagiarism by a journalist in Argentina.
Gerrard Williams and Simon Dunstan claimed in a 2011 book Grey Wolf: The Escape of Adolf Hitler, that the Fuhrer fled with his mistress Eva Braun to Patagonia and had two daughters before dying in 1962 aged 73.