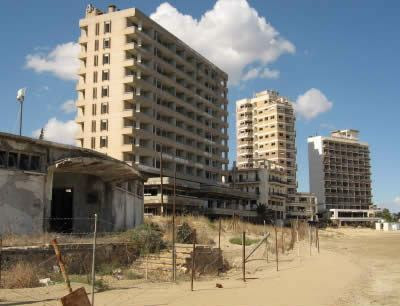 Varosha (Greek: Βαρώσια [locally [vaˈɾoʃa]]; Turkish: Maraş or Kapalı Maraş) is a ghost town and a southern section of the Cypriot city of Famagusta. Prior to the Turkish invasion of Cyprus in 1974, it was the modern tourist area of Famagusta. Its inhabitants fled during the invasion, when it came under Turkish control, and it has remained abandoned and under the occupation of the Turkish Armed Forces ever since. Entry is forbidden to the public. As of 2015, the city continues to be uninhabited with a population of 0.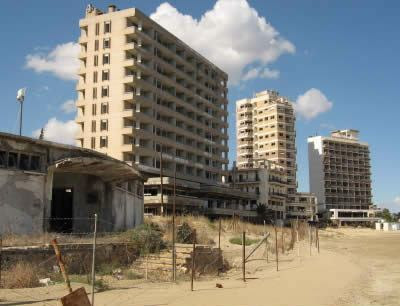 Varosha is a settlement in the unrecognized Republic of Northern Cyprus. Prior to the 1974 Turkish invasion of Cyprus, it was the modern tourist area of the city of Famagusta. For the last three decades, it has been left as a ghost town. In the 1970s, the city was the number one tourist destination in Cyprus. To cater to the increasing number of tourists, many new high-rise buildings and hotels were constructed.
When the Turkish Army gained control of the area during the war, they fenced it off and have since refused admittance to anyone except Turkish military and United Nations personnel. The Annan Plan had provided for the return of Varosha to Greek Cypriot control, but this never happened, as the plan was rejected by Greek Cypriot voters. As no repairs have been carried out for 34 years, all of the buildings are slowly falling apart. Nature is reclaiming the area, as metal corrodes, windows break, and plants work their roots into the walls and pavements. Sea turtles have been seen nesting on the deserted beaches.