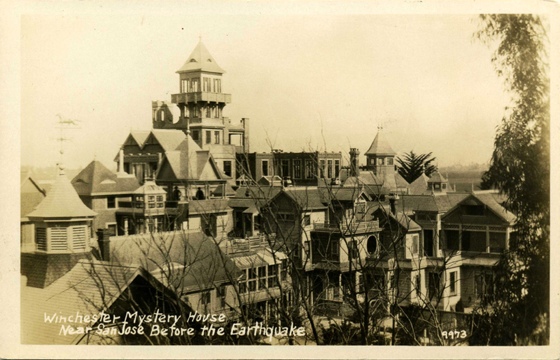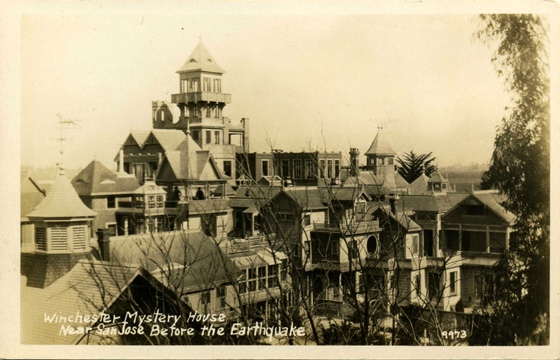 The famous Winchester mansion mystery.
It was once was the personal residence of Sarah Winchester, the widow of gun magnate William Wirt Winchester. It was continuously under construction for 38 years and is reported to be haunted. Under Winchester's day-to-day guidance, its "from-the-ground-up" construction proceeded around the clock, without interruption, from 1884 until her death on September 5, 1922, at which time work immediately ceased.
The Queen Anne Style Victorian mansion is renowned for its size and utter lack of any master building plan. According to popular belief, Winchester thought the house was haunted by the ghosts of the people who fell victim to Winchester rifles, and that only continuous construction would appease them. It is located at 525 South Winchester Blvd. in San Jose, California if you want to check it out.
Although this is disputed, popular belief holds that a Boston medium told Winchester that she had to leave her home in New Haven and travel West, where she must "build a home for yourself and for the spirits who have fallen from this terrible weapon, too. You must never stop building the house. If you continue building, you will live forever. But if you stop, then you will die."
Winchester left her New Haven home and headed for California. In 1884 she purchased an unfinished farmhouse in Santa Clara Valley, and began building her mansion. Carpenters were hired and worked on the house day and night until it became a seven story mansion.
Today the home retains its unique touches that reflect Mrs Winchester's beliefs and her reported preoccupation with warding off malevolent spirits. These spirits are said to have directly inspired her as to the way the house should be built.
The number thirteen and spider web motifs, which carried spiritual significance for her, occur throughout the house. For example, an expensive imported chandelier that originally had 12 candle-holders was altered to accommodate 13 candles, wall clothes hooks are in multiples of 13, and a spider web-patterned stained glass window contains 13 colored stones. The sink's drain covers also have 13 holes. In tribute, the house's current groundskeepers have created a topiary tree shaped like the numeral 13. Also, every Friday the 13th the large bell on the property is rung 13 times at 1 o'clock p.m. (13:00) in tribute to Winchester.