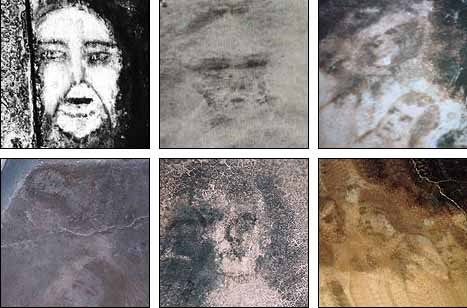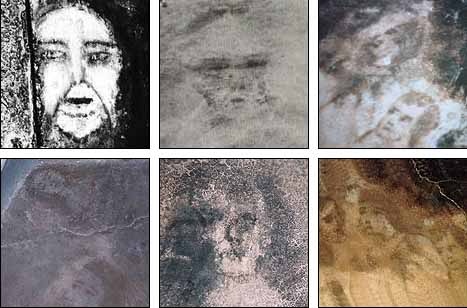 The Bélmez Faces or the Faces of Bélmez is an alleged paranormal phenomenon in a private house in Spain which started in 1971 when residents claimed images of faces appeared in the concrete floor of the house.
These images have continuously formed and disappeared on the floor of the home.
The face appearances in Bélmez began on August 23, 1971, when María Gómez Cámara claimed that a human face formed spontaneously on her concrete kitchen floor. María's husband, Juan Pereira and their son, Miguel, destroyed the image with a pickaxe and new concrete was laid down. However, the Pereira story goes, a new face formed on the floor. The mayor of Bélmez was informed and forbade the destruction of the new face. Instead, the floor concrete was cut out and taken for study.
María's home was advertised to the tourists as La Casa de las Caras (The House of the Faces). By Easter of 1972 hundreds of people were flocking to the house to see the faces. For the next 30 years the Pereira family claimed that faces continued to appear, both male and female and of different shapes, sizes and expressions.
More and more faces continued to appear on the floor of Maria Pereira's kitchen, attracting thousands of visitors every day. In time, she discovered that the house, built around 1830, apparently stood above a graveyard used by the Romans, Spanish Muslims and then Medieval Christians.
But did Maria Pereira just paint the faces herself?
If so, she never benefited financially from all the attention. She lived a simple life in that same house and eventually died in 2004.
Claims suggest that the faces were manifested on the floor by telekinesis. This notion was based on the claim that the expressions on their faces used to change with the mood of Maria Pereira.
Of course, scientists have found it possible to analyze the molecular changes in the whitewash and prove that some fakery was involved. Many now believe that the paintings were actually created by Maria's son, Diego Pereira.