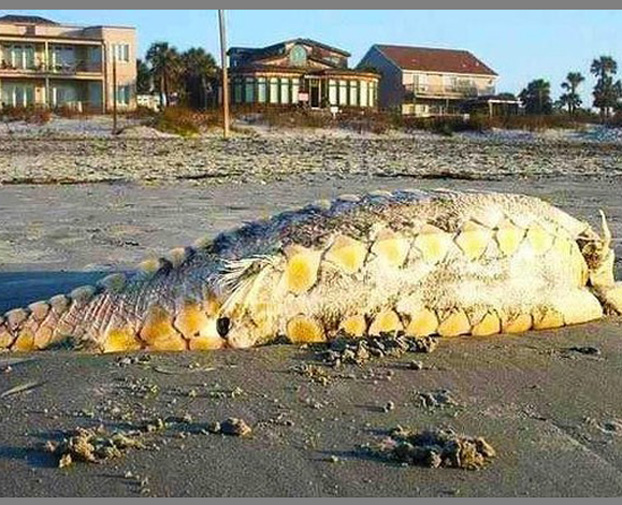 Is this a real sea monster?
Like many washed-up carcasses it carried both a salty stench and an air of mystery. Speculation ran rampant, with commenters suggesting that the creature was everything from a dinosaurian sea monster to a toxin-spawned mutation to a chupacabra.
Scientists, however, were somewhat more skeptical
One of the first to identify the monster was Dr. Shane Boylan of the South Carolina Aquarium. Two big clues allowed Boylan to identify the fish more or less immediately: the animal's shape and distinctive bony plates.
The marine monster was in fact an Atlantic sturgeon. Part of the reason the giant fish's identity was difficult to determine is that sturgeon are not normally the strange brownish tan color but instead lighter colored and silvery. The South Carolina monster's flesh color had changed as it baked in the sun. The dinosaur identification was actually pretty close to accurate; sturgeon are among the oldest bony fish in existence.
It's not surprising that the sturgeon scared and confused people; Atlantic sturgeon have been known to reach 15 feet long and weigh over 500 pounds; seeing the beasts close-up is not for the faint of heart.