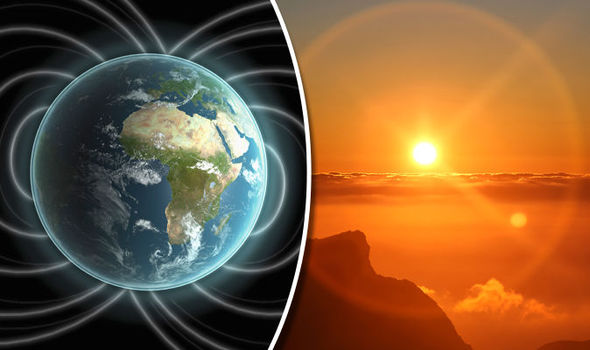 The US space agency confirmed fears that we may be heading towards an extraordinary event, which would see compasses point SOUTH if the magnetic poles shift.
Climate researchers believe we are heading towards a reversal of the planet's magnetic field, an event that has happened before and has been attributed to wiping out the Neanderthal species.
Bruce Jakosky, MAVEN principal investigator at the University of Colorado, Boulder, said when the switch does take place, the Earth's magnetic field which prevents the Sun's dangerous radiation getting through, would be neutralised for around 200 years.
He revealed the detail during an historic announcement about how Mars lost 99% of its atmosphere and its oceans that could have housed early life.
Mr Jakosky explained that Mars had been blasted by solar winds, which had stripped it of its atmosphere, for billions of years since the beginnings of our solar system.
He said: "When the polar shift happens the Earth will have no magnetic field for about 200 years."
During that time the Sun's solar blasts are expected to strip away at our atmosphere as they did on Mars billions of years ago.
But he thankfully added that 200 years would not be long enough for the Sun to significantly reduce the atmosphere for life to die out.
Doomsday?
Michael Myer, lead scientist for the NASA Mars mission, added that the Sun had been much more powerful in the early stages of the solar system when Mars had been continually blasted, and, even then the process had taken billions of years and still one per cent of its atmosphere remains.
However, scientists admit that 200 years without a magnetic shield to defend against the Sun's solar storms, which cause the amazing northern lights on earth as the rays hit the magnetic shield, would have implications for us.
The magnetic shield is our first line of defence against harmful UV rays, and any thinning of the atmosphere could increase the risk from skin cancer.
Without a magnetic field, or with a significantly reduced one it could destroy global communications facilities, power supplies, and even lead to fires and rioting on the streets, according to some researchers.