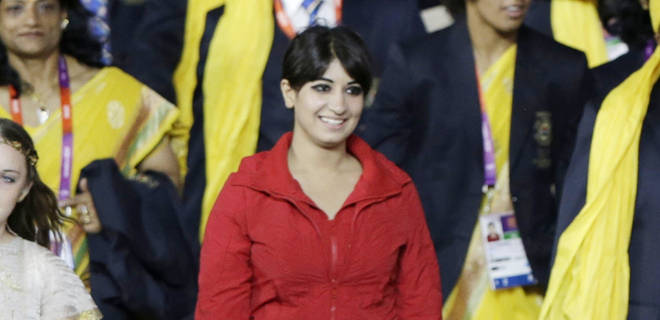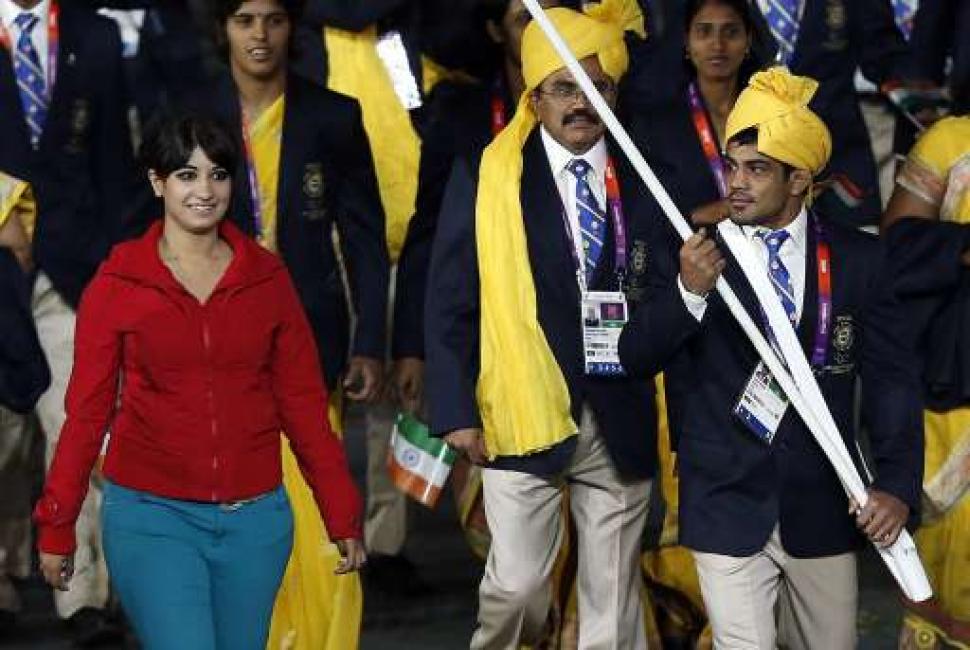 London: The Indian contingent at the Olympics has got itself drawn into a controversy after a mysterious woman was found to be marching along with them during the Opening ceremony on Saturday.
The woman, whose identity isn't known, was seen marching ahead of the Indian contingent, just behind flag-bearer Sushil Kumar. CNN-IBN has learnt that the woman, seen wearing a red t-shirt and light blue jeans, was neither a flower girl nor a petal carrier. Contingent officials are fuming, saying that they have no idea how she landed up as part of the Opening Ceremony.
India's Chef de Mission PKM Raja, who is also the President of the All Indian Boxing Association, said: " we have no clue who this woman was. somebody from the security pushed her into the contingent, we had no idea. we were under the impression that she was part of the organisation."
"We were initially told that she would accompany the contingent till the track but she went on to take the entire lap. There was another man also but he stayed back and did not enter the stadium," Raja added.
"We have taken strong exception to this. The march past is for the athletes and officials attached to the contingent. We are totally taken by surprise how a person could just intrude into the track."
Indian officials said they had no idea who the woman was. Indian media identified her as Madhura Nagendra, a graduate student from the southern city of Bangalore who had been living in London. She was part of the opening ceremony team, so had security clearance. She however was not supposed to be walking around with the Indian team
Investigation show she was "hanging around" near the eneterance to the arena, and just as the Indian flag bearer walked past she dashed to her side. Officaials looked on amazed, unsure what action to take.  Madhura then enjoyed a stroll around the circuit with the team and mingled with the athletes in the centre until security realised they had been fooled.  However Madhura slipped out quickly.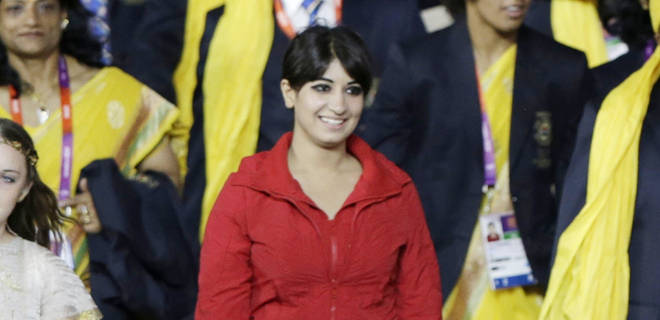 Madhura Nagendra's father, K. Nagendra, was quoted by the Press Trust of India news agency as saying that his daughter had been chosen to dance in director Danny Boyle's ceremony, and he speculated that she might have been asked by organizers to escort India's team into the stadium.
"This might have hurt our team's feelings. I feel very sorry for that," he was quoted as saying.
The mystery woman case dominated Indian media's coverage of the opening of the games.
Organiser, Coe stressed the woman had been screened to get into Olympic Stadium so there had been no security breach.
"Don't run away with the idea that she walked in off the street," Coe said, adding that games officials "will have our own discussions" about the incident