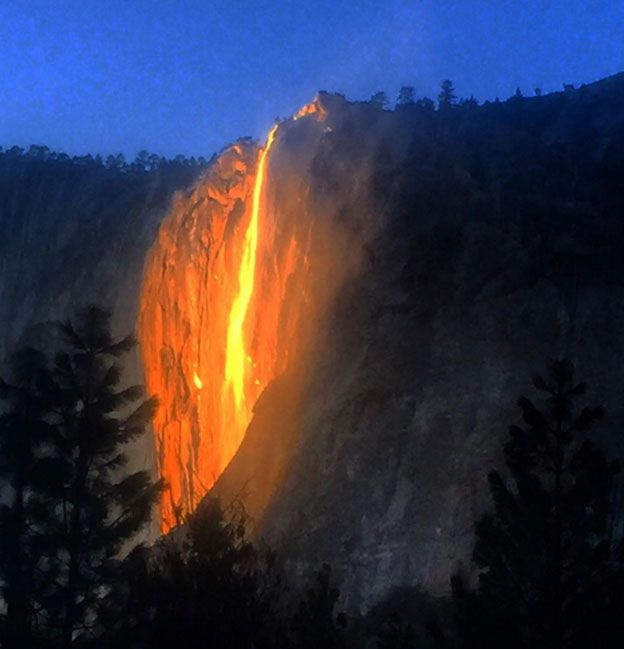 The Yosemite Firefall was a summer time event that began in 1872 and continued for almost a century, in which burning hot embers were spilled from the top of Glacier Point in Yosemite National Park to the valley 3,000 feet below. From a distance it appeared as a glowing waterfall. The owners of the Glacier Point Hotel conducted the firefall. History has it that David Curry, founder of Curry Village, would stand at the base of the fall, and yell "Let the fire fall," each night as a signal to start pushing the embers over.
Firefall ended in January 1968, when the National Park Service ordered it to stop because the overwhelming number of visitors that it attracted trampled meadows to see it, and because it was not a natural event. NPS wanted to preserve the Valley, returning it to its natural state. The Glacier Point Hotel was destroyed by fire one year later and was not rebuilt.
The Firefalls were performed at 9 p.m. seven nights a week as the final act of a performance at Camp Curry.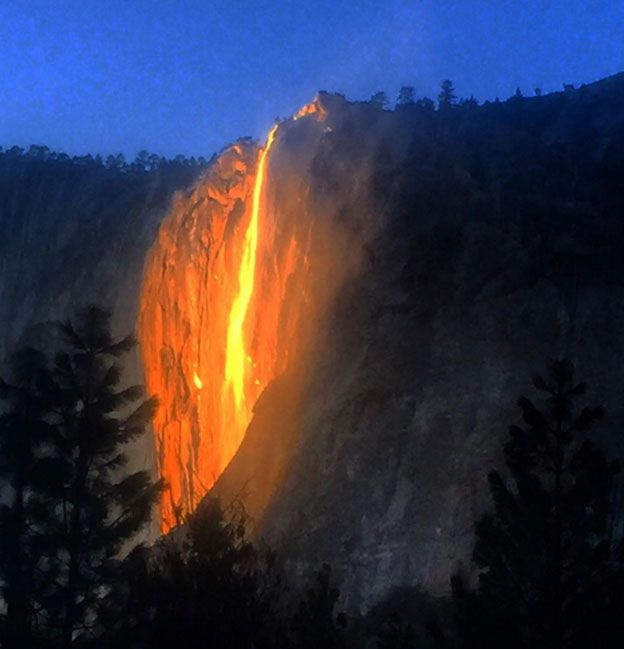 Yosemite 'firefall':-
A rare phenomenon known as "firefall" has drawn visitors and photographers to Yosemite National Park in California.
The stunning visual display happens every February when the light hits a waterfall tumbling down El Capitan.
But the intensity of this phenomenon depends on the volume of water and the cloud cover.
The park authorities said: "The Horsetail Fall phenomenon appears when the angle of the setting sun sets the waterfall ablaze with reds and oranges, like a fire was falling down the cliffs on the shoulder of El Capitan."