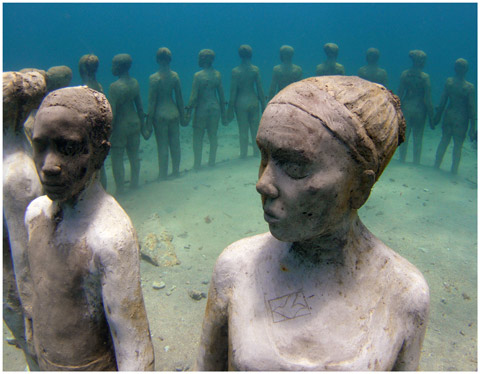 The Molinere Underwater Sculpture Park is a collection of ecological underwater contemporary art located in the Caribbean sea off the west coast of Grenada, West Indies and was created by British sculptor Jason deCaires Taylor. In May 2006 the world's first underwater sculpture park was open for public viewing. Taylor′s aim was to engage local people with the underwater environment that surrounds them using his works which are derived from life casts of the local community. He installed cement figures onto the ocean floor, mostly consisting of a range of human forms, from solitary individuals to a ring of children holding hands, facing into the oceanic currents.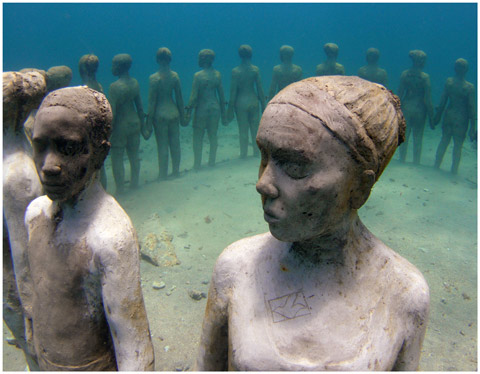 The Sculpture park, which began construction in 2006 is situated on the sandy ocean floor in the barren Molinere Bay and it now acts as an aid to relieve pressure on natural reefs which have become popular among water sports enthusiasts, particularly in nearby Flamingo Bay which is the most visited snorkelling destination on the island. There are over sixty-five concrete individual sculptures covering an area of over 800 square meters and in total weigh around 15 tonnes in dry cement.[5] There has been some debate as to the intention of the park and whether it was a dedication to the slaves that were thrown overboard during the journey through the Middle Passage from West Africa to the Americas. In response the artist says "It was never my intention to have any connection to the Middle passage. Although it was not my intention from the outset I am very encouraged how it has resonated differently within various communities and feel it is working as an art piece by questioning our identity, history and stimulating debate."- Jason de Caires Taylor
The sculpture park is easily accessible via boat from the main port of St Georges (2 miles/3 km North of the capital) or Grand Anse Bay on the West coastline. The sculptures are situated in a variety of depths of water with a maximum of 12 meters, and the park is visited daily by scuba divers, snorkelers and glass bottom boats. Recently a local artist on the island has added new works to the sculpture park.