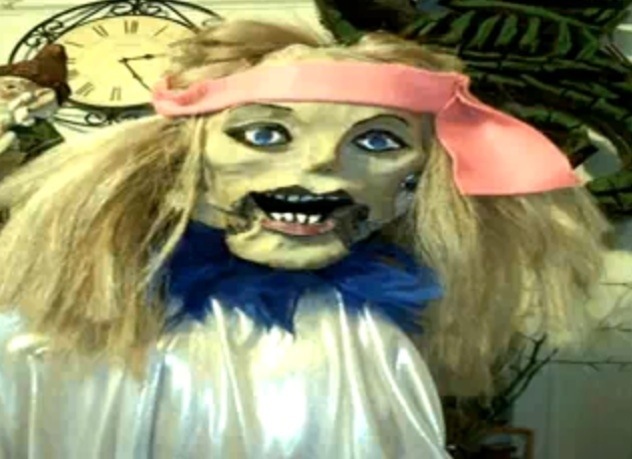 The Grifter is an urban legend that began to circulate on the Internet in 2009. The video is said to show horrifying images of people being tortured and killed. Viewers of the movie can experience nausea, trauma, night terrors, clinical depression, and even commit suicide. The content shows the human sacrifice of small babies and images of satanic ritual abuse. In some cases, people have attempted to make a copy of the film, but have failed. It has been said that the video was recorded in the 1930s and portrays a collection of strange pictures and sounds. In one part of the movie, the words "Your race is the one that is dying" appears while a picture of a plant rotting is seen.
The footage below displays close up shots of corpses and people who have been possessed by demons. It has been described as the most disturbing video available on the Internet. However, many feel the tape is a hoax and nothing more than an urban legend. The story of The Grifter has spawned an Internet meme in which threads that discuss hoax videos are considered to be trolling for information on bizarre clips.
Grifter (Cole Cash) is a fictional comic book superhero who has appeared in books published by Wildstorm Productions and DC Comics. Created by artist Jim Lee and writer Brandon Choi, he first appeared in WildC.A.T.s #1 (August 1992), as a member of that titular superhero team, during the period when Wildstorm and its properties were owned by Jim Lee. In that incarnation, Grifter is a former government operative and member of the military unit Team 7 and the espionage agency International Operations.
In 1999, Lee sold Wildstorm to DC Comics, and ownership of all Wildstorm characters, including Grifter, transferred to DC Comics. His backstory and continuity remained the same, however, until DC's 2011 relaunch of their entire comics line, The New 52, which rebooted the continuity for most of its characters. Since then, the character has starred in his own DC series, and has also made appearances in numerous other DC titles, such as Voodoo, Legion Lost, Team 7, Animal Man and Deathstroke.
The character was also a cast member in the 1994 – 95 animated TV series Wild C.A.T.s, in which he was voiced by Colin O'Meara.