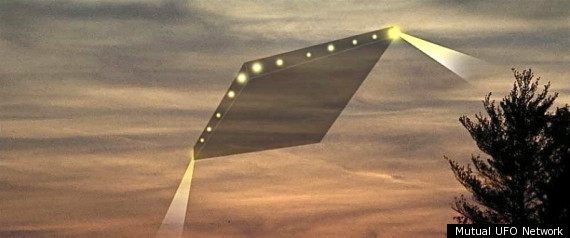 Two Ligonier, PA, witnesses reported watching "a large object in the sky with flickering lights" in the shape of a diamond or cross-like pattern that hovered and moved for about an hour beginning at 12:30 a.m. on May 20, 2013, according to testimony from the Mutual UFO Network (MUFON) witness reporting database.
The witnesses were outside walking a dog when the object was first seen.
"I got a pair of binoculars to get a better look," the reporting witness stated. "I could see a dark outline of the object and it appeared to be a diamond shape with multiple colored lights in a cross-like pattern."
The witness and his wife observed the object for about an hour.
"It slowly headed west away from us. It would move slowly and then hover for a while and then move again. We have seen unexplained lights in the sky before, but nothing like this. This was a solid object with definition."
Ligonier is a borough in Westmoreland County, PA, population 1,573. No images or videos were included with MUFON Case 47550.
A Pennsylvania witness at Greensburg – about 18 miles west of Ligonier – reported a "slow flying, diamond-shaped" object with three white and one orange light at its four points and a blinking red light at its center about 6:30 p.m. on January 9, 2013. This story was filed as: Low flying diamond UFO reported over Pennsylvania town.
Case 45118 was closed by Pennsylvania MUFON as "information only." Cases are typically closed with that designation when MUFON is unable to make contact with a witness for further information.
Pennsylvania is a current UFO ALERT 3 rating, with a high number of UFO sightings nationally. Pennsylvania had 26 reports in April 2013 – the 5th highest reporting state while California had 47 reports – the highest reporting state in the nation.
You can read more details about other recently reported cases at the UFO Examiner home page.
The following is the unedited report filed with MUFON. Please keep in mind that most UFO reports can be explained as something natural or manmade. If Pennsylvania MUFON State Director John Ventre investigates and reports back on this case, I will release an update. Please report UFO activity to MUFON.com.