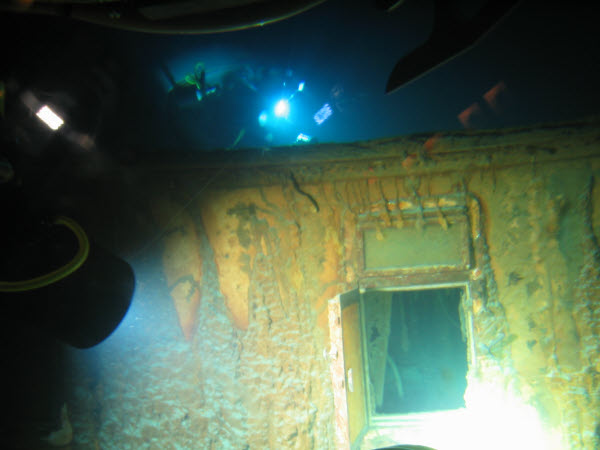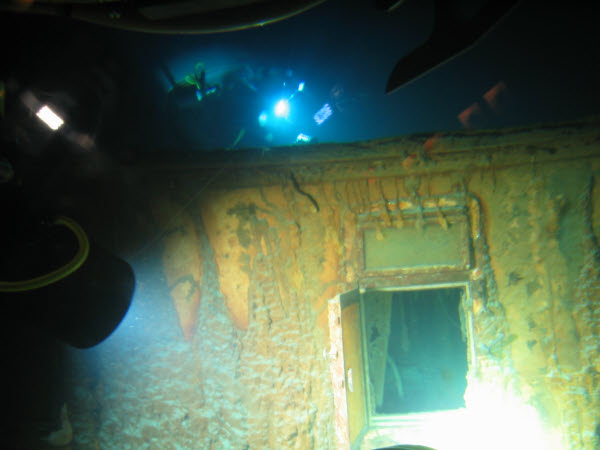 We all love the Titanic story, and love to hear about new mysteries and strange details. James Cameron returns to Titanic for the last time intending to go deeper into the wreck than ever before and film parts of the interior not seen since the night Titanic sank in 1912.
Expedition: Bismarck is a 2002 documentary film produced for the Discovery Channel by Andrew Wight and James Cameron, directed by James Cameron and Gary Johnstone, and narrated by Lance Henriksen. The film follows an underwater expedition to the German battleship Bismarck and digitally reconstructs events that led up to the ship's sinking during World War II. In 2003 the film was honored with an Emmy award for Outstanding Sound Editing for Non-Fiction Programming.
From the Back Cover:
It was WWII's most fearsome ship. A ship so powerful, it sank the pride of the British fleet with a single salvo. Hearing the news, Winston Churchill saw no choice. He sent nearly the entire Royal Navy to hunt and destroy the Bismarck. But what really happened to this German legend? Was she sunk? Or was she scuttled? Now Titanic director James Cameron returns to the high seas to tell the tale and search for the truth. Leading a team of explorers, historians and Bismarck survivors, Cameron examines the wreck three miles down and discovers the answers that may finally end the debate. With revolutionary production techniques and high-tech Remotely Operated Vehicles, Cameron lights up this dark world and gives us the first glimpse inside the Bismarck in more than 60 years. Stunning high-definition footage shows underwater images with cinematic clarity. And cutting-edge animation and ultra-realistic reenactments bring the survivors' stories to life. Join the expedition and relive the dramatic final days of the DKM Bismarck.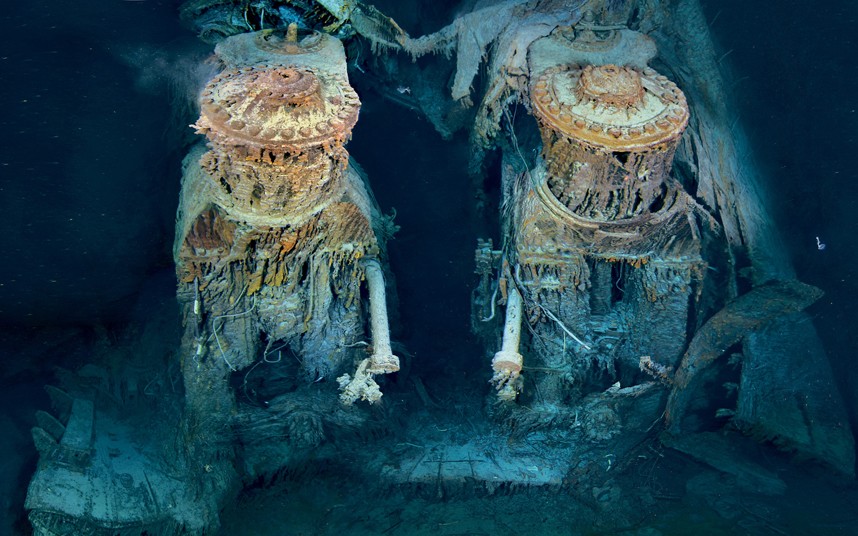 Launched on May 18, 1941, the Nazi battleship Bismarck was the largest war vessel of its kind ever built. Wasting no time in making its mark on the Second World War, the Bismarck spent the first eight days of its existence cutting a swath of destruction and devastation throughout the North Atlantic, sending several Allied ships (and sailors) to the bottom of the sea. But on day nine — May 27, 1941 — the Bismarck itself was defeated and destroyed by the combined efforts of the British battleships Rodney and King George. When the smoke cleared, the Bismarck was sunk beneath the waves, carrying 2,106 German sailors with it.
Produced and directed by James Cameron, the man who brought the movie megahit Titanic to life in 1997, the two-hour documentary Expedition: Bismarck uses state-of-the-art technology and filming equipment to offer viewers the first images of the Bismarck since its death 61 years earlier. This required Cameron and his hardy crew to risk their own lives by plunging some 16,000 feet into the icy North Atlantic, but the end results were well worth the danger involved. Debuting on the Discovery Channel cable network on December 8, 2002, Expedition: Bismarck was made available on both video and DVD within a matter of days after its TV bow. ~ Hal Erickson, All Movie Guide